Fire Alarm System Installation – Done Right!
At Premier, we cannot stress enough the importance of proper fire alarm installation. Fire alarm installation is a process that involves surveying your site and developing blueprints that are suitable to the needs of your unique company or organization. Building structure and size determine how your system should be installed to best protect your property, assets, employees and patrons.  
It is essential that those who perform your fire alarm installation are skilled and knowledgeable. From system wiring and professional installation of the various devices and equipment necessary to safeguard your business, all aspects of the installation process are essential to the system functioning properly.
A trained and certified fire alarm installer should perform the job, so that you enjoy peace of mind knowing that your business is protected in the event of a fire.
Installing a fire alarm system is not an easy task and neither is finding the right company.  When investing in a fire alarm, consider the most important factor that will determine whether it works properly – installation.
Premier specializes in all types of conventional and addressable fire alarm systems and custom designs each installation. Suitable testing, inspection, and maintenance of fire alarm systems can help save lives and prevent further property damage.
Professional Design for Every Type of Fire Alarm System
We install a wide range of Fire Alarm Systems, some of them include:
General Fire Alarm Systems

Fire Alarm Evacuation Systems

Business Fire Alarm Systems

Wireless Fire Alarm Systems

Carbon Monoxide Systems

Multi-Facility Fire Alarm Systems

Commercial Fire Alarm System Installation

We also provide services for testing, inspection, and maintenance of your alarm systems to ensure everything meets requirements and works properly.

Fire Alarm Services:

Fire/smoke alarm installation and maintenance

Fire alarm monitoring service

Alarms serviced and tested on a consistent service schedule per NFPA 72

24-hr emergency service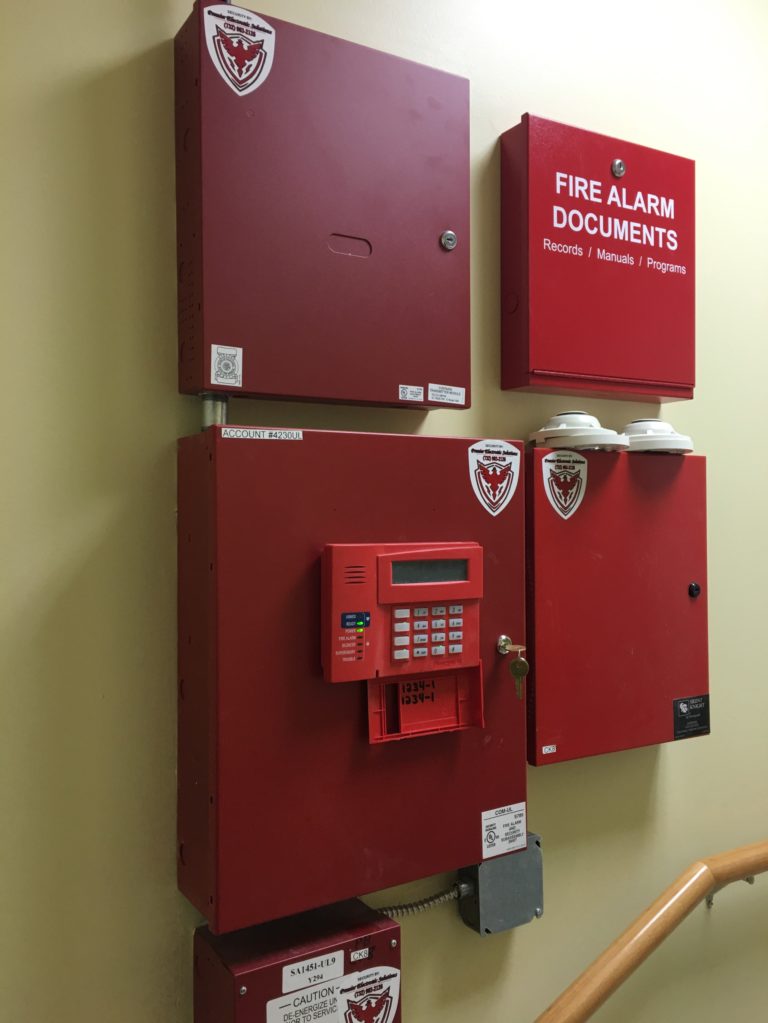 Central Station Fire Alarm Monitoring – Peace of Mind to Business Owners
Even during the hours when your business is not in operation, security professionals survey your property to ensure its safety.
With central station fire alarm monitoring you can enjoy 24/7 protection for your business and property. Even during the hours when your business is not in operation, security professionals survey your property to ensure its safety. Should a fire or other emergency occur, the fire department or other authorities are notified in seconds – meaning you will likely not face total loss of your business.
Premier has a long-standing partnership with, Securall Monitoring Corporation – a local, well established monitoring company ensuring 24/7 protection with a personal touch.  Securall Monitoring is UL listed. You can rest assured and trust our fire alarm monitoring company that is located on the Jersey Shore and not thousands of miles away.
We provide comprehensive fire alarm inspections mandated by NFPA72 as well as other local jurisdictions. Performing annual and semi-annual fire alarm inspections will reduce the number of false alarms as well as extend the lifespan of your fire alarm system.
We provide our customers with the peace of mind that every dollar budgeted for fire alarm testing and inspection is performed with exceptional quality.
Upon completion of our inspection and testing of your fire alarm systems, will provide a comprehensive report showing any deficiencies in the systems, and we will recommend solutions for any issues you might find.
Our service includes;
Fire Alarm Design

Fire Alarm Installation

Fire Alarm Repairs

Fire Alarm Inspections

Free On-Site Evaluation



Member of the New Jersey Burglar and Fire Alarm Association
Burglar Alarm License 34BA0007500
Fire Alarm License 34BA0007500